So I don't intend to use this blog to push products. But if I come across something super great, something I'm really glad someone told me about, I'll tell you about it here. Here's my super great find: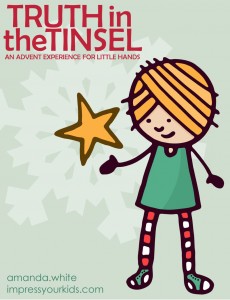 It's an e-book you can buy for $4.99. It's an advent guide for parents of little ones, mainly preschool and early elementary. I think Ellie will adore it, and I'm hoping Aiden will go along with it.
It's has:
1. Short daily devo with a great "clue" idea to make it interactive.
2. Two different options for an advent calendar/count down to Christmas
3. A Christmas ornament craft for every day that ties in with the devo
I've been reminded lately of the power of remembrance. And holidays are the great rythm of remembrance for our lives. I want my littles to grow up with a deep sense of tradition in the midst of their transitory lives. I want them to grasp the richness of the Sacred Story, reliving it in the vividness of their imaginations each and every year. And I think this little book will help us do that.
To be honest, I bought the book and was a bit overwhelmed when I looked at the craft supply list. And the thought of doing a craft every single day is well, just not very realistic for me and mine. But as the author encourages, you don't have to do them ALL. She offers a few ideas for paring it down a bit. My personal hope is to attempt HALF of the ornaments this year and complete the set next year. I'll pick and choose ones that I have the supplies for now (plus a few little purchases) and then have all year to gather the supplies for the remaining ornaments next year. Who knows, even attempting half may be a bit of a lofty goal, but we shall see.
Regardless, I think the devos and advent calendar will be Christmas soul food for my children. If you're interested buy yours
here
today! Cuz tomorrow is December 1, people! Which is very weird, because it's currenty 67 degree and over the weekend it was 80 degrees. And when I say weird, I mean, AMAZING. The paper snow flakes taped to my window more than satisfy any desire I might ever have for cold.
*** *** ***
What are your favorite traditions (new or old) that make the holidays special?